Headlights are both decorative and very necessary part of the car. With recent laws they are used for day time marking lights or driving lights to indicate that a vehicle is approaching. In the night they are especially necessary in unlit or dim roads so they need to be functional and bright. They also need to be esthetically good looking and not just a huge projector sticking out in front of the car.

Original concept was to have driving light and high beam lights as separate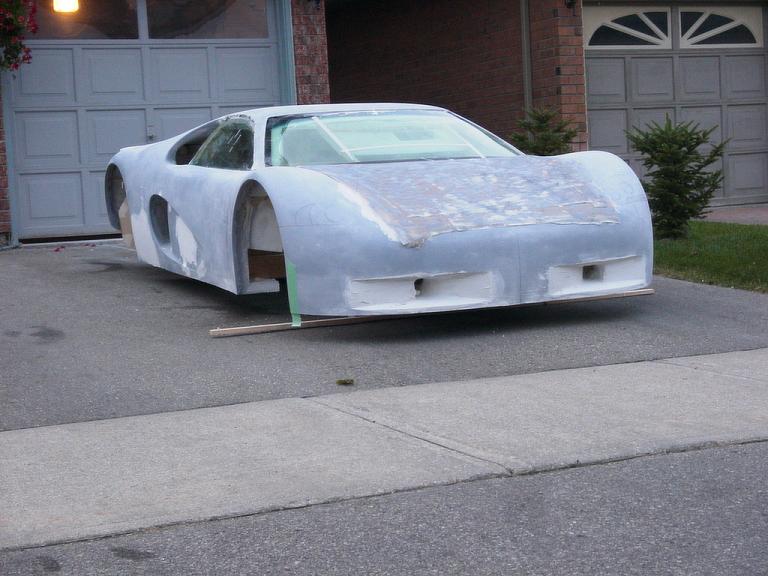 reflectors with turn signal and Day Time Running (DTR) lights utilizing LEDs with fog lights mounted lower within the bumper.

Version 1 and 2 were a very quick conceptual idea that stared but it fizzled out very quickly

Version 3, 2 and 1
The modified idea was changed to have 2 sets of projectors. A smaller projector used as auxiliary driving or fog light and a larger one used as low and hi beam driving light and still have auxiliary fog lights mounted within the bumper area. As the frontal area being fairly short and trunk cut line raised from originally planed location, overall space from lens cover to wheel well lining is significantly reduced. Not wanting to alter much of the overall look of the cut line, in the final version the two projectors had been moved forward slightly to clear connectors and lining which will be producing slight bump in the lens while still maintaining safe clearance from the front wheel.
The light buckets are made of 3 separate molds, 1) being main frame which will be used for mounting of the 2 projectors, DTR lights and turn signal reflector and a compartment for mounting electronics to control and monitor the lights. 2) a back cover shell to protect bulb connectors plus to make it water tight or at least prevent water from entering the shell with access panels for replacing bulbs when they burn out. 3) a trim ring to cover up the projectors frame which has additional LED mountings.

With low location of the headlights we wanted to have a bright lights to illuminate front of the road and our option was to use HID projectors to achieve that. Hence we had decided to use Hella bi-Xenon HID projectors used in Mercedes Bens for main low/hi beams and smaller Xenon H1 projectors used in Audi TT. The larger bi-Xenon
are 6.75" from front lens to back of connector on the bulb which is the depth we needed to work for our headlight buckets.

We had started making first headlight plug just after the front bumper was pulled from the mold. The process was paused based on suspicion that they was not going to be enough space for the projectors to clear front wheel and did not went much beyond base mounting surface for the projectors.
Second version was much of improvement from the first version. However after making general shape of the headlight housing and carving out openings for the projectors, it was fount that the opening where cut out either too high or that the general opening for the housing was to low or that the projectors are to tall. So rather then fixing the current housing new housing was made and the opening where cut much lower. This fixed the height of the problem but it introduced a clearance problem with the bumper where there was no space for movement on how to adjust the level of the housing level. To fix the problem to give the housing some thickness on the bottom and provide clearance, there was no other option other then cutting relive in the bumper which is unfortunate as the bumper is no longer one continuous piece of fiberglass it will be fixed later after the headlight housing is finished giving additional wiggle room for adjustment and providing mounting points for the housings. With all the changes there is virtually no clearance on the back side of the housing cover and the wheel well lining will be sitting on the housing it self and the lens it self will have slight bump to clear the projectors. Last change is to the fenders them selves. This is not only cause of the lights but also in relevance of then the plug was made. Assumption was made to use 19" rims for the front and now that only 18" rims are scheduled and how the curvature was made with addition to the headlights. They will be lifted by half inch by the light housing trailing edge and the opening around wheels will be reduced by and inch and arch on top of the fenders will be reduced close to an inch. The following changes will should make for much better look to the fender line.


Version 4
Always on the lookout for more current and up to date lights, always looked at the idea of having LED lights. There are plenty of OE type LED projectors, problem with most are that they are not modular where LOW and HIGH modules can be re-arranged anyway to any particular configuration, secondly most are also fairly big. Looked at getting focusing lenses and making custom reflectors/collimators to focus the bean but that would involve a lot of engineering, time and money. Some models of Ford F150 2015 and newer have LED projectors have a rectengular shape but always thought they where big size wise, the one thing that was atractive about them is that the lens has low profile and what it looks like they are may be assembled of different parts. Found manufacturer of the actual acrylic lenses in Montreal Quebec and tried contacting their marketing/engineering department and after about 3 months finally got a snotty reply from one of the engineers that they had invested a great amount of money into the research and where not interested in selling a sample of the lens or work together. So that idea was put on shelf for some time. Then found an inexpensive recovered set of those modules (lens with mounting bracket, heatsink and LED) for cheap and figured to get a set as trial to see what are their dimmensions. After getting the LB surprisingly they are smaller then the HID projectors so decided to get matching HB. What it looks like is that they are shallower, they will be wider at least when comparing the lens but the overall mounting might be even narrower and the entire headlight bucket will be much lower and making the overall look of the lights much smaller.
Following are Ford part numbers for the projectors, note that they are different left to right and Low to High beams

2015-17, W/LED HEADLAMPS TO 08/06/2015, low beam
OEM part number is FL3Z13C626A. Right side
OEM part number is FL3Z13C626C. Left side

2015-17, W/LED HEADLAMPS TO 08/06/2015, high beam
OEM part number is FL3Z13C626B. Right side
OEM part number is FL3Z13C626D. Left Side

FL3Z13K046A cover plate.